TableTopDay plus Cursed! Kickstarter Launch Equals Busy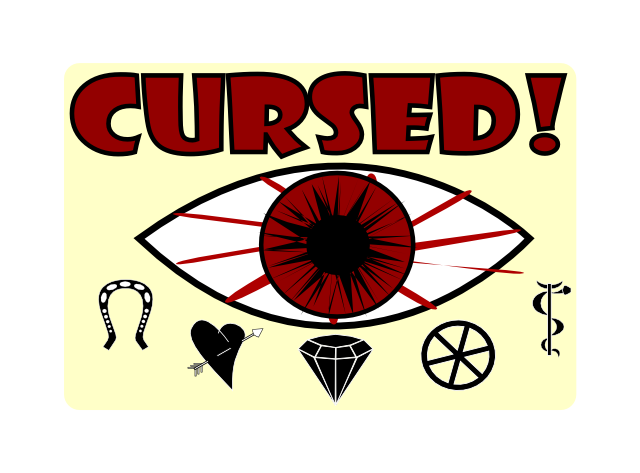 Today is TableTopDay and the first day of the Kickstarter for Cursed! We clicked the green launch button at 0930 and headed out for a day of gaming and introducing Cursed! to the physical realm.
First Coffee, then Fun
Our first stop was Staples, where we printed some promotional literature and grabbed some Dunkies from next door. After that we drove to our first event of the day: Battleground Games in Abington.
Gamers are not known as an early bird crowd, so we weren't surprised to be some of the first ones there. We went for the soft sell and just left a copy of Cursed! on the table while we played Trains (Alderac Entertainment Group) with a fellow who brought it with him. Neither of us had played before and we thoroughly enjoyed it. More details on that in an upcoming game review post.
After Trains, enough people had arrived that we decided to break out Cursed! for its Abington debut. Within minutes we had multiple rule change suggestions and both of us were eliminated from play. This was a humbling, but very informative moment on both counts and established a "gang up on the developers" theme which continued until dinner time.
A Change of Plans
Our original plan had us hitting four area events in a hectic PR blitz of two-hour chunks. Instead, we had fun and spent four hours at Battleground until hunger drove us onward. At this point, a decision was made to skip the other two stores on our list and head directly to Knight Moves Board Game Cafe. Knight Moves is a new-to-us business in Coolidge Corner that provides games and coffee on a membership basis. The atmosphere was great and the patrons friendly. The couple waiting for a table in front of us offered to double up so the four of us could play something together, which was really nice of them and meant more fun for all.
After much deliberation (the games menu is enormous), we settled on Power Grid (Rio Grande Games). It is complicated, but Devin gave us a run down (rumor has it he knows how to play every game they offer) and a few folks found copies of the rules on their phones, which sped up the learning process. (Note to self: when designing a complicated game, include extra rule books so people can read to themselves.) I think we'd have to play this one a few more times before a review could do it justice, but it certainly made us think and gave everyone a challenge. I was glad no one at the table had played before, because a few things from Step 3 caught everyone by surprise. It was fun watching everyone scramble to adjust strategy when we read that everyone loses a power plant at the end of each round. The two frontrunners were neck and neck until the end: both powered 17 cities on the same turn (game ending condition) and the money-based tie breaker was $3 to $2.
We broke out Cursed! as the second game of our visit and got a fifth player to join in. A rousing time was had by all, especially since we were better prepared to introduce the game to newcomers by this point in the day. More valuable playtesting ensued.
Post-Gaming Reflection
Writing all this down after a crazy day seemed like a challenge at first, but it is important to capture this stuff while the experiences are still fresh. By the time we left Knight Moves, our Kickstarter was already past 10% funded and now sits at a respectable 15%. We're hoping that we planted the Cursed! seed in many minds today while making the rounds, but it also reminded us that we're in this to play games. Taking time to get to know people, play the games that they like, and see what they think of Cursed! is playing the long game, even if it means fewer tweets or waiting a few hours to thank our Kickstarter backers.
One Comment